eBird: Checklist Sharing Option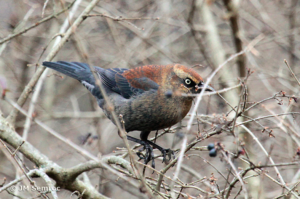 If you make a casual observation of any of our three SAR land birds (Canada Warbler, Olive-sided Flycatcher, Rusty Blackbird) in Nova Scotia, you can now share your results with us through eBird. Your observations can help us identify new areas where these birds may be breeding.
If you have an eBird account, you can submit casual observations by sharing your checklist with our project account! You can share a checklist in one of two ways: (a) after submitting a checklist, click the "Share w/ Others in Your Party" link on the right of the confirmation page, (b) from the Manage My Checklists page, click the "Share" link. Either of these methods will open the Checklist Sharing page. Simply enter our username, LandbirdSAR, under "To" and click "Share Checklist." A stationary checklist is most useful. If possible, please make the location of the checklist the specific site where you saw a Rusty Blackbird, Olive-sided Flycatcher, or Canada Warbler to pinpoint exactly where you found the SAR.
Don't have an eBird account?
Please see our Volunteer section on Causal Observations for other simple ways to report your sightings!