Summary of threats to the populations of Canada Warbler (Cardellina canadensis)
Breeding Habitat Loss and Degradation: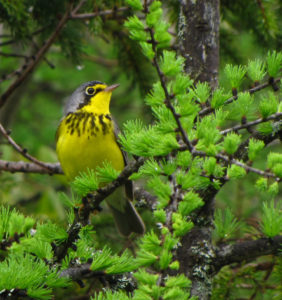 Drainage and conversion of wet forests for development (eastern part of the range).

Deforestation for agriculture and by the oil and gas industry (western part of range).
Deer browsing limits the understory canopy and renders habitat unsuitable.
Road development – Proximity to roads and length of roads has a negative impact on breeding success and occurrence of Canada warblers.
Decline in insect abundance and outbreaks – Population densities of Canada warblers are correlated with spruce budworm outbreaks, so population declines may be due in part to a reduction in insect outbreaks and declines of insect abundance.
Winter Habitat Loss and Degradation:
Wide-spread deforestation has historically altered much of the wintering habitat in northern South America, and this deforestation continues to occur. Specifically, the Andean sub-tropical forest is one of the most threatened forests in the world.
Source: COSEWIC. (2008). COSEWIC Assessment and Status Report on the Canada Warbler Wilsonia canadensis. Committee on the Status of Endangered Wildlife in Canada. Ottawa: vi+35.